The Garden
A work in progress, our garden is constantly evolving. Not only ebbing and flowing with the seasons but we are trying to create our own little paradise.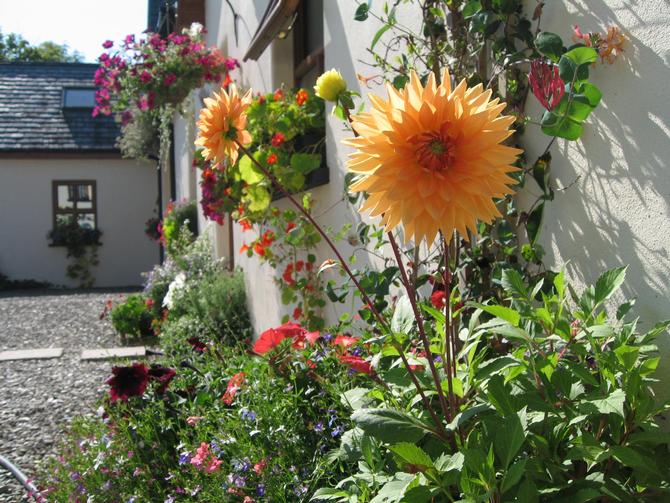 The gardens are a mix of old and new, with mature native species trees lining the meandering drive and new features such as our ornamental pond furnished with Coi and the odd goldfish.
We have concentrated on getting our kitchen garden up and running, we now have two (bursting to the brim) tunnels growing a selection of vegetables from spring carrots and lettuce to summer tomatos and cucumbers (depending on the time of year). Outside in the kitchen garden we have every vegetable imaginable growing, all neatly laid out in raised beds. We have a young fruit garden within the Vegetable plot that bears apples, raspberries, currants and strawberries (not that we ever see a strawberry as the children get there first!).
In addition to this we grow and cut flowers for retail, catering to weddings and parties. Growing a variety of species such as Asters, Dahlia, Larkspur, Cosmos, Delphiniums and roses to name but a few. Not only is the perfume as you walk into the garden intoxicating but to pick a posie and put it on your table to compliment the fresh vegetables you have just picked is a rare treat!
Just a hop from the vegetable plot are our busy free range hens who are only too happy to provide you with fresh eggs for your breakfast in exchange for some of your food scraps.
Eggs are normally available but sometimes the hens have periods of not laying when they are moulting or go broody (want to have chicks) and as mister fox paid us a visit last winter we are currently gettings our numbers up again.
The Veg in the garden is subject to the time of year and the weather of course.